do you know what feels great?? looking back at old posts and seeing that we accomplished goals we set for ourselves.
not great? terribly edited pictures i've posted for the world to see...
FOR EXAMPLE...K's room!
it was the one of the first areas we focused on because we wanted our little guy to have a safe place to play. and it was his first room. i don't know that he much cared, but WE were excited.
i wrote a post
before we even
closed
about all
our grand plans
for K's room.
i talked about painting it from drab olive to bright white:
check! we immediately began brightening up that room on closing day.
...and we also added the chalkboard wall i wanted so badly!
almost nine months later, i'm thankful we took the plunge and painted the chalkboard. it was scary thinking about painting a wall BLACK...but i love the end result! we have so much fun with it and it's a great stimulator for K's imagination. best of all, it will grow with him. i'm over 30
((not middle-aged!))
and i STILL love to draw!
i was able to reuse the vehicle decals from our last apartment like i wanted to:
the plane on a ceiling fan blade was fish's idea and K loved it! the fan was near-constantly on over the summer...and the plane flew around and around and around...
this worked out even better than
painting
the design on the door because i was still able to achieve a bold look, but with an extremely easy-to-remove method.
washi tape has a very similar level of low-tackiness as masking tape. easy on, easy off.
i also talked about stringing colorful bunting and felt-ball garlands across K's ceiling.
i tackled that easy DIY
less than a month after we moved in!
it was seriously so easy to do and is such a fun element of his room.
i envisioned this bed as early as my
THIRD blogpost
! i'm incredibly proud of fish for building it.
what haven't we done yet?
welllll...i still love this construction initial and want to make my own version: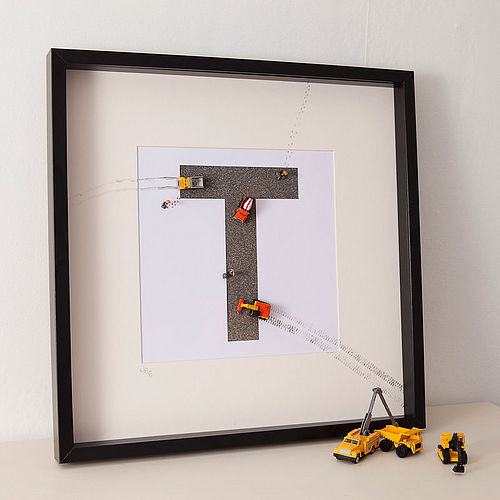 i haven't made this rollie pollie yet either. and i likely won't. as i said in
my original post
, i think a wee bit more effort is involved there than i actually feel like expending.
looking back at 2012, are there any big projects YOU completed?
it's time to give yourself a pat on the back!